FREE Sample: Download our Free Dog Training E-Book Here
Testimonials: Happiness is... A Better Canine !
It's like reading The Bible of Dog Training!

-- The Readers of The ABC's of Dog Training …and YOU!

This is a wonderful book for all dog owners!
It should be packaged with every new puppy as an owner's manual.

-- Beatrice from Columbus, Ohio

This is not "just another book on dog training" - It's a Dog Training Dictionary!

-- John and Jeanette Dean of Cleveland, Ohio

I'm 100% convinced that well-trained dogs and owners make for "The Best Of Friends!"

-- John & Donna Jones, El Cajon, CA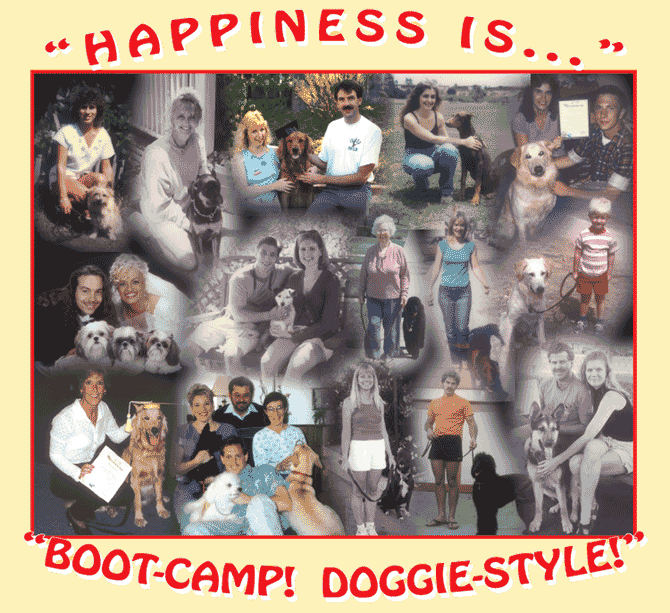 We have so often seen where a trained dog became not only "A Better Canine,"
but also "A Better Patient."

-- Veterinarians Throughout San Diego and the USA

I read your book and loved it! It's very funny and SUPER-INFORMATIVE!

-- Naomi Mason, Incline, NV

The training of my dog Lucky, was simply the best, and so is your book - a must for every dog owner!

-- Lucy Hoffman, La Mesa, CA

Behavioral problems are the most common reasons dogs are euthanized and this could be easily resolved with the proper training. My clients and I have all been completely satisfied with David's teaching methods and our "new dogs."

-- Jo Beaty, DVM (Veterinarian), Coronado, CA

Your book is wonderful! Challenging but rewarding! I LEARNED -- MY DOG LEARNED! We came from 'ground zero' in only 13 weeks!

-- Karen and Sepp, San Marcos, CA
Get Started Today with either... The Book or The School
or both! : Call us today!